A natural wax used to repair and protect bare wooden surfaces. Beeswax seals and protects all types of wood and wooden surfaces giving a long-lasting, durable, and natural-looking shine.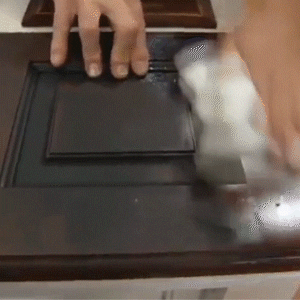 A quick and protecting fix for any dents, scratches, gouges, and stains. Also perfect for other purposes like polish finished furniture, or as a stand-alone finish on unfinished wood.
FEATURES
Use it to restore and repair your cabinets and other wooden cabinets, effective in fixing any dents, scratches, gouges, and stains.
Our unique preserving solution will recondition tired and faded wood surfaces, restoring their original beauty. It penetrates directly into the wood to revitalize sun-damaged and water damaged surfaces, leaving a lustrous, polished shine.
For any kind of wood. For soft- or hardwood, for finished or unfinished wood, for every wooden surface, you desire to polish.
Beeswax is a safe, natural, and effective way to bring new life to wood furniture. 100% natural, environmentally friendly, without harmful preservatives, unscented, and clear.
Apply the product on a dust-free surface, leave it on for 3-4 minutes then wipe it clean with a cloth.
SPECIFICATIONS
Net: 85g
Shelf Life: 36 Months
PACKAGE INCLUDES
1x Beeswax Wood Polish & Repair